Orangeburg Bounce House Rentals and Orangeburg Water Slides
Best Inflatable Bounce Houses and Water Slide Rentals in Orangeburg, SC
The outdoor party experts here at Laugh n Leap Amusements have been offering the best party rental services available in the Orangeburg, SC area for years. Whether you need a helping hand with planning, staffing, or logistics, Laugh n Leap Amusements has worked on more than 6,500 different events throughout the entire state of South Carolina. Our team has the skills and experience you need to make your next event one that will be the talk of the town! What we have seen time and time again is that planning a perfect party takes time and attention to detail. If you have plans for a party for your child or for the entire neighborhood let us help you make it the best it can be with inflatable bounce houses and water slide rentals in the Orangeburg, SC area!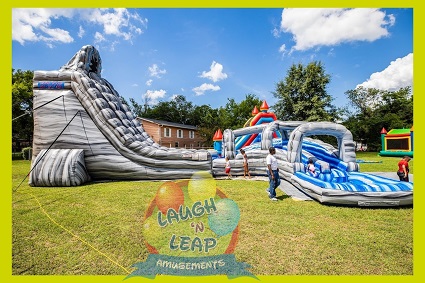 Any party or event hosted for or attended by children will find many great benefits from bouncy houses and inflatable water slide rentals. Kids are full of energy and these attractions allow them a fun and safe place to let off steam and enjoy themselves without concern about them getting hurt or getting into things they shouldn't. Party rentals like those you get here at Laugh n Leap Amusements are designed to be safe, fun, and memorable! Our party planning experts can help you find the bounce houses and water slides that are just right for your event, no matter how big or small it may be. We have multiple styles and sizes you can choose from so you can find exactly what you want and need and best of all, you get the customer service that Laugh n Leap is famous for!
Laugh n Leap Makes the Difference!
We can help you get together everything you need that will help make your next party unforgettable, and best of all, we will take care of all the details like set up, maintenance, and tear down. Once you make your reservation and confirm your booking, we will take care of everything else. All you have to do is be there to show our team where you want things set up and then you have the freedom to enjoy your party or event rather than worrying about getting everything set up and maintained during your event. Be sure to check out all the bounce house rentals and the inflatable water slide rentals we have available right now on our website, as well as all the other party rental supplies you will need. We have it all and offer all of the accessories and services you need to make your next party a hit!
Why Bounce Houses and Water Slides Are so Popular
Kids love bounce houses and water slides for a variety of reasons including:

Fun Styles: The very sight of a bounce house or water slide will send shrieks of joy through most kids and they love the fun colors and character designs of our inflatables.
Chance to Play: It can be a challenge to keep a bunch of kid entertained, but our rentals are popular among all age groups and are a great way to give kids their own play space.
Good Activity Levels: Kids have a lot of energy and love to be active and bounce houses and water slides is a perfect way to help them get exercise while burning off that energy!
Fun Outdoors: These fun attractions help get kids outside in the fresh air and gets them out of the house, it fights off boredom, and it lets them have fun with friends.
Parents love renting watersides and bounce houses for their kids for many reasons:
Affordable Option: Here at Laugh n Leap it is easier than ever to get the best attractions for your child's party without breaking the bank in the process!
Professional Service:With years of experience in the party rental and organization industry, we what makes a party great and our goal is to give you only the best.
Versatile Options:Whatever your needs are, we have something that will work for you and we can help you find the perfect bounce house and water slide options.
Convenient Process:We understand there is a lot that goes into planning your child's party and we are here to help simplify the process and help make it easier.
Make Your Next Party One to Remember
Contact us now to finalize your order or complete your reservation online and see for yourself why more and more people in Orangeburg, SC and all throughout the state, are turning to Laugh n Leap Amusements to ensure their party is a success! If you want the perfect touch to make your next party or celebration event one that everyone will remember, for all the right reasons, then you need bounce house and water slide rentals! Give us a try and you will never want to go anywhere else for your inflatables again! Call today to get started at (803) 647-9601 or book online right now! You will not regret it and you will never do parties and celebrations the same way every again- contact us now!
↑