Blythewood Bounce House Rentals
Blythewood, SC Local Bounce House and Water Slide Rentals
If you are looking for party rental supplies for your next party, you need to seriously consider getting a bounce house or water slide, or two, from Laugh n Leap Amusements. Our quality party rental inflatables are designed to be durable, easy to set up, safe for kids of all ages, and affordable for party planners like you. In Blythewood, SC local bounce house and water slide rentals are becoming more and more popular among children young and old alike, and many people wonder why there is such an appeal for inflatable slides and bounce houses. We decided it was time to shed some light on this:
Why Kids and Parents Love Inflatables Bounce Houses and Water Slides
Anyone who has been to a party or celebration where they had bounce houses or inflatable water slides has seen how the kids react. They are running around, shrieking with job, bouncing and sliding for hours, and having a great time. There is no doubt that the vast majority of kids enjoy inflatables and love having access to them. They are brightly colored and of course it is fun to bounce and slide and enjoy a fun time with friends. However, for an adult, there are many reasons why Blythewood, SC local bounce house and water slide rentals are the way to go to make sure your kids have fun at their next backyard party!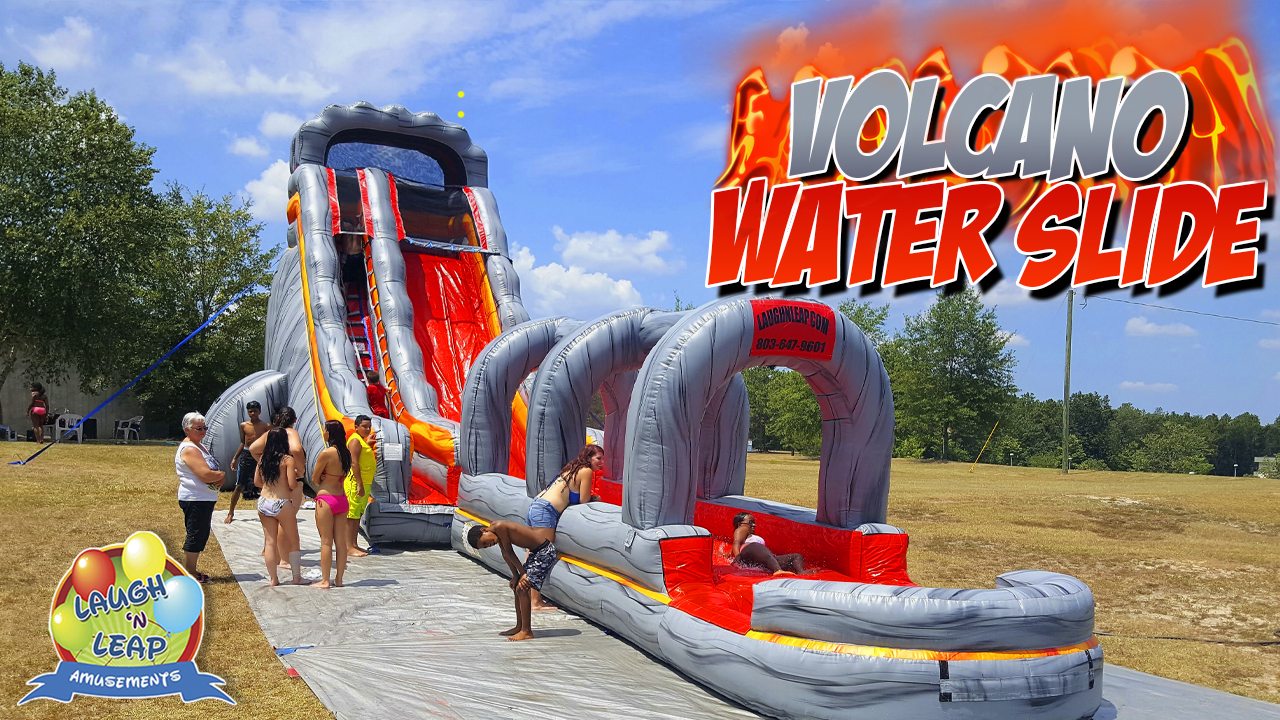 Here are some of the reasons parents are falling in love with inflatable party rentals:
Bounce Houses allow children the chance to let out excess energy
One of the biggest complaints parents have when it comes to their children is that they spend too much time in front of the TV or at the computer or staring at their allophones. Bounce houses and water slides give them a way to get outside and get active and use their energy for something fun and productive. Kids can now take advantage these inflatables and get some exercise and do something useful with their energy rather than just lounging away and growing restless or even destructive out of sheer boredom. So, if you want your kids to let out the energy that has not been used, bounce house and water slide rentals are the way to go!
Inflatables provide a fun and safe environment to engage with others
Kids need social interaction and usually crave a connection and communication with their peers. Sometimes this is hard and some children struggling with forming friends and engaging with others their age. Laurens, SC local bounce house and water slide rentals allow parents a way to create a fun, safe, and controlled environment for their children to interact with their friends and peers. Therefore, when you buy or rent water slides, obstacle courses or any bounce houses for kids, you can help the with their social growth and help them form strong and lasting friendships and new connections with children in the neighborhood.
Bouncers come in fun designs kids love and relate to
Another big reason why parents and kids alike love bounce houses is the fact that you can find party inflatables in a wide range of shapes and themes that kids love and relate to and enjoy. Here at Laugh n Leap we have bounce houses and water slide inflatable that feature some of kids's favorite characters, themes, and designs. If you would like to rent bounce houses that kids will love, consider one of our fun party themes- Mickey Mouse, Super Heroes, Cars, Thomas and Friends, Princess, Unicorns, Race Cars, Minions, and many other fun options. It is all here waiting for you and we add new party rentals all the time too.
Water slides help children to relax and sleep better
While the running and jumping and bouncing may seem anything but restful and relaxing to onlooking parents, kids actually will feel better after they have been able to enjoy a romp in the inflatables. After taking part in the activities, kids can relax and have their body systems restored to their full functionality. They will sleep better after being active and engaging with the world and people around them. It can also help younger children grow and develop as they form mental connections, improve motor control, and learn the basics of body movement. Your child will feel better and sleep better and grow better because of it.
Local bounce house and water slide rentals are more popular than ever before. Here at Laugh n Leap Amusement of Blythewood, we are in the business of helping kids of all ages have the best possible experience possible. Whether the party is for the or they are attending another party or community event, having access to inflatable bounce houses and water slides can be a great way to ensure they have a safe and enjoyable time. To learn more and to see for yourself the amazing selection of party rentals and supplies we have on hand, check us out online today!
Contact Us Today to Make Your Reservation
We here at Laugh n Leap are proud to provide commercial grade bounce house rentals for any of your party events in Blythewood, Columbia, Lexington, and all areas throughout South Carolina. We also have the ability to host large festivals and events with our two-story slides, larger bounce houses, adult size obstacle courses, and unique party games. We're South Carolina's #1 party and event specialists providing prompt and friendly services for all occasions! Call us today or book your reservations today online to see the difference that quality party inflatable rentals can make. Blythewood, SC local bounce house and water slide rentals are becoming more and more popular all the time, so be sur you do not miss out! Find the best inflatables for your event and show your kids how well you understand them and give them what they want for their next party!
↑