Florence SC Bounce House Rentals & Water Slides
Rent Bounce Houses and Water Slides For Your Party
Inflatables like bounce houses and the warm weather favorite the water slide have become a staple of many parties and celebrations big and small. They truly are a lot of fun and make summertime parties much easier for parents and make hot weather activities more enjoyable for children as well. With the easy setup in any flat open area, they are commonly used outdoors but can be set up indoors with the right accommodations. Here at Laugh n Leap Amusements, we have over a decade of working parties of all sizes and types. So, if you want to take advantage of the options available to you when it comes to bouncing house rentals and water slides in Florence, SC contact us today!
Bounce Houses are Fun!
Bounce houses and water slide inflatables are a sure-fire way to please any kids at your next party or celebration and they are a must-have for birthday parties these days. Whether you are looking for something simple like a castle bounce house, a special themed slide or house, or something for older kids like a fun obstacle course, Laugh n Leap Amusements has the party rentals you want and need! Our party favorites include Minions, Paw Patrol, Princesses, Castles, Thomas and Friends, Star Wars, Super Heroes, Dinos and many more! We have a number of styles to choose from and an amazing setup policy that you will definitely want to take advantage of! But you still may be wondering, why should I get one of these inflatable slides and pools for my next party? Using these rental slides brings many benefits and advantages, some of which include:
1. Stress-free setup: When you get your party rentals from us, you get a setup team that is on top of things and that will take care of every need you have big and small! The inflatable, pumps, and hookups are all included with your rental price. We also offer all the accessories you need to make things even better, including a professional bounce house and water slide staffing teams. All that is needed is a flat space for set up and easy access water supply of some kind and you can experience the best in bounce house rentals and water slides in Florence, SC. Experience stress-free setup for yourself!
2. Affordability is our goal: Setting up rental inflatables is a much better choice than buying something and struggling with storage and maintenance. It is also cheaper than other types of slides and party games. Bounce house rentals and water slides in Florence, SC are so popular they are becoming a staple of parties of all types and sizes and our team of party experts are ready to help you get exactly what you want and need- at a price you can live with. You would do anything for your little one's party but it doesn't mean you should have to break the bank to give them a great day. We make it affordable for all!
3. Safety always comes first: The basic design and construction of our wide range of fun and entertaining bounce houses and slides are meant to keep kids safe as they jump and play. At Laugh n Leap Amusements of Florence, we take your child's safety very seriously which is why we have built in a number of safety features and why our staffing team are fully trained to maintain a safe environment for all children using our equipment. We will make sure everything is set up and maintained properly, and then when the party starts, our team of experts will ensure a safe time for all
4. Reduces water waste: Many people contact us about our bounce house rentals and water slides in Florence, SC. One of the common questions we get about our water slides us whether they end up using and wasting a lot of water. If you have been worried about this and if this has stopped you from getting a water slide for a party in the past, then you will be happy to learn they actually use very little water. They use less water than a traditional pool or water slide and are cleaner as well which is a great plus for parents looking to throw a great party for their son or daughter.
5. Doesn't take much space: The biggest factors that attract parents to party rentals like bounce houses and water slides is that just about any back yard is big enough to fit something! If you are looking for something fun for your child's next birthday party or something for a big community event, they are a great option that is quick and easy to get lined up. Smaller venue spaces don't have to limit the fun your guests can have, so get bounce house rentals and water slides in Florence, SC today! You will not regret adding one or more of our party rentals to your celebration plans.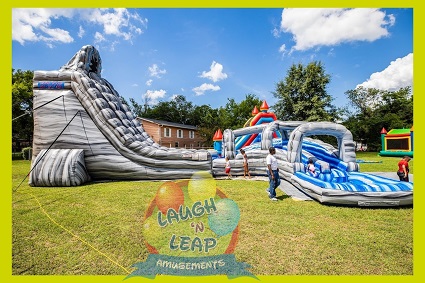 It is easy to see why renting inflatable water slides is a great option for your next party or celebration. The best thing is; Laugh n Leap can get you're the slide that is just right for your needs, at a price you can easily afford, and we will handle all the details so you can spend your time enjoying your party. Bounce house rentals and water slides in Florence, SC are in high demand and you do not want to miss out on these great deals and the amazing selection that we have available right now! Call us today or book your reservation online!
Page content written by Sarah Jo Lorenz-Coryell
↑